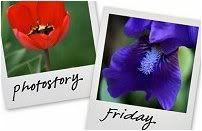 Hosted by Cecily and MamaGeek
this is my first photostory friday, so hey cecily, hey mamageek
... it's nice to be playing!
i finished the week the same way i started - leaving the house at 7.45am in the rain. walked miss 11 to the train and carried on my way.
having committed to walk 5 times in 5 days, i'm very happy to have completed this little challenge to msyelf! yesterday's walk was in much sunnier conditions and we started at a spot that is literally 5 minutes from my house, that i didn't even know existed! almost 25 years i've lived in wellington and i didn't know this was here!
we walked through the bush and came out at the girls' guide headquarters, smack bang in the middle of the confidence course. there was nothing to it of course, but to walk the high ropes!
i would have been much steadier on my feet if i hadn't gotten half way out, thought it would be a good idea for tara to take a picture of me; walked backwards, balanced on one hand, gingerly removed my camera from my pocket, stretched out and handed it to her!
i stuck my leg out just for fun.
it would have served me right if i'd lost my balance and fallen in the creek...
then it was tara's turn


these are ominously called 'the steps'. there are 205 of them. see that speck of sunlight to the right of tara? that's the top!
and looking back. many down, many to go.
it actually only takes a couple of minutes! so good for the bum and such a relief to get to the top!
that's miss 10's primary school (the two red buildings). it's such a sweet sound hearing the kids outside playing at lunchtime. i love listening to their squeals of joy. complete abandon. no responsibilities!
after a very hurried dinner and pick up from drama class, it was off to miss 10's keyboard concert. these events are very cute, in that each child plays one or two pieces of music, each lasting approximately 7 seconds each.
they introduce themselves and the first piece. we clap. they bow. we clap. they play. we clap. they introduce the 2nd piece. we clap. they play again. we clap.very cute.
not so cute is the obligatory supper of store bought chocolate crap that the kids hoover in 90 seconds flat. not only did i not buy or make anything, i told miss 10 that we would be leaving IMMEDIATELY after the concert, ie - NO SUPPER!!!
she complained. i held firm. the world didn't end. did i mention this is at 8 o'clock at night? sheesh. the whole supper idea is completely superfluous. enough already.