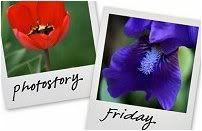 Hosted by Cecily and MamaGeek

CHOCOLATE CREAM CHEESE CUPCAKES to be precise
i traced this recipe from
nikki
back to the
frugal witch
, back to
how about orange
. the one thing we have in common (apart from being bloggers) is that we've ALL made these incredibly yummy cupcakes. the thing i love the most (apart from the chewy caramel flavour) - FOCUS sue! - is that each of us had entirely different-looking results.
i love that, because - TRUST ME - i have NEVER made ANYTHING that looked even REMOTELY like the picture in the recipe book.
can i hear an amen?
anyway - i saw the recipe on nikki's blog and pretty much frog-marched my nearest daughter into the kitchen to make them with me (coz it's more fun that way, right?)
oh - and i got 24. everyone seems to get a different amount. i'm figuring it all depends how much ends up on your lickety finger...
ready mum!

i'm ready too! [slurp]
all concentration
ok, so the topping includes cream cheese, chocolate chips and peanut butter chips. i've never even HEARD of peanut butter chips, (and hate peanut butter [shudder]) let alone where to buy them, so i substituted white chocolate chips. after sitting for a bit, they took on a caramel-looking appearance and came out of the oven all crunchy and chewy-like. (NB: this is a GOOD thing).
when baking with children, i always do the initial mixing to avoid unsightly lumps (like these ones)
but look at that - all nice and smooth
ready for the oven
of course, bowl licking is compulsory
and there we are...
now all that's left is to fight over them!
YUUUUUUUUUUUM!!!