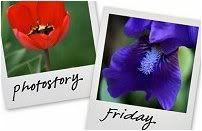 Hosted by Cecily and MamaGeek
when i was pregnant with my first child, a mother of 3 tried to explain what it's like when you give birth to your 3rd. i still remember how she tried to explain, and how i didn't really 'get it' - until 7 years later when i
had
my 3rd child.
i won't try and explain here, but anyone who's given birth for the 3rd time (melinda, auntiegwen, amanda, cecily, mom of 3) - you know what i mean.
i had a 5 year gap between daughters 2 and 3, and it was like re-visiting an old friend. i've always been a fan of those 'first few weeks' and the third time around, it was just wonderful. having 7 and 5 year old helpers meant i could take a nap without the house falling in around my ears, and the baby slept in a bean bag in the middle of the family room for 3 weeks while life went on around her. at one point, DH said 'are you ever going to put her to bed?!' like i said, casual.
miss 11 (like miss 19), has made it through the last 11 years relatively unscathed. that is until this happened.
oh, i should say, if you don't want to see a toe that looks like it just went through the mincer, look away. ooops. too late. this is what happens when you take on a double piano stool. piano stool wins and you break your first bone - the 3rd metatarsal.
apart from that, it's pretty much been plain sailing, and when i mean plain sailing i MEAN plain sailing. that is until the hormones set up camp. if miss 11 was a cartoon character, she would be the one with thick black clouds above her head shooting streaks of thunder and torrential rain. she can go from sweetness and light to angry pre-teen faster than you can say 'dude, where's my car?'
you would think 3rd time around the puberty track i'd have it 'down', but they're all different. amen to that.
so without further ado, here's a few pictures of the most photogenic child IN THE WORLD!!!
ok, photos out of order.
during one of the kissing scenes, one of the girls was overhead to say "sheesh, haven't they done that - like 10,000
times
already?" so cute.