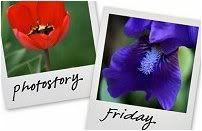 Hosted by Cecily and MamaGeek
aside from needing matchsticks to hold my eyes open, i haven't posted any pics from my AWESOME trip to new york because i just didn't know where to start! miss 19 (ever practical) said 'start at the beginning', but that would be boring, so here are some of the more 'colourful' people i met on my trip.

this is the naked cowboy. he hangs out in times square, and for $2 you can have your picture taken with him. indecent proposals (like the one he's giving me in this pic) are apparently free...