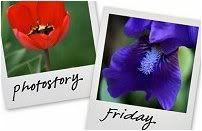 Hosted by Cecily and

MamaGeek
so went the lovingly penned endearment from her 19 year old sister on the occasion of her 17th birthday. well, that's the way it is here in new zealand anyway. it AAAAAAAAAAAAAAL comes together at 18:
- get married without permission
- vote
- drink
- smoke
....well, legally...
so without further ado, many pictures of my cutie miss 17...
sometimes i wonder if she's been the victim of an alien abduction

i mean, who can resist THAT face?
miss 17 is a go-getter. she's a field hockey goalie. she's a brilliant public speaker. she's creative. she's great with kids. she's a drummer in two bands. she plays badminton. she's on the city youth council. she loves drama. she's even been eeling.
she was leader of her college junior debate team (during the 'beanie' phase)

her band's released a CD
rockin' it out since the year 2000
of course there have been cuts and bruises along the way. this happened when i was in bed nursing a breast infection with a 2 week old (miss 12). my BF had brought her 10 year old to stay and she was spinning miss 4 (as she was at the time) on an office chair downstairs. here's the result. i dragged my sorry arse out of bed to take her to the doctors to get stitches. because miss 17 is quite the fruit loop, many say they stitched her head too tight that day!
she's got her driver's licence (well, most of it), and she rides a scooter too

she did martial arts for a while as well
and when the need arises, she scrubs up rather well. could he be any more smitten?
one thing she ain't...
this is the first time she's ever worn a cut off mini skirt.
sometimes i wonder if she was dropped on her head when i wasn't looking
miss 19 decorated her cake this year. after much hesitation when i asked, she casually threw this together...
she's also known this gal for quite a while...
in case you're wondering, yes, her knees STILL look like that!
friendship is...matching knitted hats