because of the torrential rain we're experiencing right now (if only we could send it to
victoria
), miss 11 and 12's planned class 'bonding-get-to-know-you-day-out has been put off for a week.
i have therefore found myself (on my last free day before returning to the workforce) with a BONUS DAY!!!
SO WHAT' TO DO???
first i had my morning coffee with the hubs and read the paper
of course no bonus day would be complete without a little blogging. (
deb
, i'm on your site!)
where there's blogging, there's scrapping!
it felt really good to scrap TWO layouts all about MEEEE!!! (they were challenges that HAD to be about me, but STILL!!!)
this one's for the
#8 wired nz dares blog
. their first challenge of the year is scrap about what we learned in 2008. that was a no brainer. i've left the image large so you can read the journalling.
the second one, called 'the queen's challenge' for
stampin'scrap
needed to include a tiara or crown, some pink and some bling. check. check. check.
while i was scrappin' the courier hooned up the drive and delivered these! i was under no illusion that they were from the hubs, which had me wondering just who they WERE from! we met some wonderful people while camping, including a dutch rural vet husband and wife team with 4 boys (under 6!) they not only left their camera on the kitchen counter at home, they were also ROBBED while camping (they pretty much got everything back tho).
i sent them a CD of over 100 photos (including their son's 6th birthday). the card with the flowers thanked us for 'bringing their holiday back to life'. (awwwww)
this is the card i've made for my dad's birthday. his birthday is march 2nd, and MAN - it always creeps up so fast!
and one for my valentine. lovin' those stampin' up papers
then it was time for some lunch and little
will and grace re-run heaven
1 o'clock in the afternoon and still in my pjs. what a rebel. we are the family who will stay in their pjs all day given half a chance.
it's a knee jerk reaction to my childhood. my mother is perpetually organised, even if there's nothing happening. this extended to sleepy teenagers (me), whose curtains were thrust open on a sunday morning, because i was 'wasting the day'.
love my mother (who'd you think i get all my organisation skills from?) but if we have no plans, PJs it is...
then i hit the exercycle
then, i obamiconned myself (coz i can).

"find' is my 'one little word' for 2009, (and i'm meant to be looking cute here not freaked)
thanks
'p'!
if you want to play along at home, go
here.
the day will be rounded out by a wine with hubs after work, then a stampin' up demo at the local community centre. tomorrow i'm heading out of town to stay with a friend, and sunday - well, the only thing left to do before THE BIG DAY is pick out my clothes
can i also just say how heartwarming it has been to know that so many of my friends (both virtual and actual) have been
rootin'
for me in my quest to FIND a job.
i got more comments on that post than ANY other (where i wasn't giving something away!)
it really means a lot :)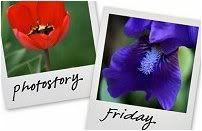 Hosted by Cecily and MamaGeek