you may remember
tuesday's wagie ride
back in february. we rode our bikes to remember Tuesday, who lost her 8 month battle with cancer. she was 2 years old.
From now until May 12th, I'm hosting a giveaway to help benefit the
Tuesday Fiona Whitt Foundation
. to enter and win this auction, simply leave me a comment letting me know you are interested in winning the goodies below, then
please donate $1
to the Tuesday Fiona Whitt Foundation by clicking here: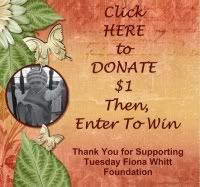 this is what you can win!

when you've made your donation, be sure to visit the Tuesday Blog Party to see what
other fantastic items are being auctioned
off by clicking the image below.