the courier delivered a happy box of love from my blog friend
elizabeth
on wednesday.
wanna hear the lame part? that happy box SAT unopened on my counter for an entire 24 hours.
WHY? well for ONE, when i got home, there was no-one around to take pictures of me opening it, and TWO, when someone FINANLLY came home, the light was really bad.
how sad is that!!!
but then husbands, good cameras, good light and the planets came together and here i am opening up my box of goodies. i was spoiled!

a note from elizabeth telling me that the journals are hand-made from wallpaper and scratch paper. i don't know what that is, but they're gorgeous. thank you!
what-a-lotta-loot!!!
this has to be my favourite piece. elizabeth ran a giveaway for her blogoversary and i won! elizabeth had me sent photos of my loved ones and she then turned them into this AMAZING bracelet. i wore it straight away and got so many comments!
i'm not really jaundiced, but these photos have a rather 'warm glow' to them, don't they?
elizabeth also has a t-shirt business,
katie kay tees
and she made me this VERY cool t-shirt. i can't wait for some warmer weather so i can wear it!
can you read it? it says 'scrappy'!!!
and a lovely frame
and a wooden plaque that i can decorate to my heart's content! i'm thinking paint first, then we'll see what happens after that...
elizabeth also made me a cd of her favourite tunes, and there's some lovely bath gel in there too! oh! and a coffee thermos that i can personalise with photos - cool huh?
thank you SO much elizabeth! i really appreciate the effort and the gesture. i hope we meet one day soon.
go see elizabeth and read all about her second honeymoon in jamaica - amazing sunset pictures, and the 'not clothing optional' beach!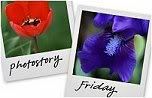 Hosted by Cecily and MamaGeek