today is my first ever bloggy friend kristi's birthday. alas, i can't remember how old she is, but i DO know that she's an entire pre-teen younger than me, which makes her 30-something.
kristi and i 'met' when i submitted a layout to the one little word challenge blog, then made a complete dork of myself by commenting that they didn't include my layout in their slide show. if i'd bothered to read properly, i would have seen that the slide was just of their favourites!
kristi, ever the sweetie, left ME a comment saying she'd done exactly the same thing. who knows if that's true or not - it was a sweet thing to say, and we were fast and firm virtual friends from that day on (mid-2007 i'm thinking).
i finally relented to her nagging in feb 08 and started a blog, and in october 08 i was lucky enough to meet her in person. she even put me up for 2 nights before our KC weekend. not many people would welcome a total stranger from the other side of the world into their home, but she did!
kristi has a wicked sense of humour, as can be seen in
this
birthday post
to her friend kendra.
all i can say now, kristi, as it's YOUR birthday (and you had to know this was coming).....
PAYBACK'S A BITCH!!!!!

(just as well you're extremely photogenic, is all i can say!)

kristi is fun and not at all afraid to look a little dorky from time to time

like me, she loves to play dress-up
after emailing and blogging for over a year and half, we finally met!
i soon learned that kristi is a 'hands-on' friend
she's in complete control of her superfast car, and has excellent parking skills
and her table manners are second-to-none
she CAN be shy...
well, SOMEtimes...
she also welcomed me into her home like an old friend and i have such great memories of my time with her and ALL my KC gals.

this is the album i made kristi for her birthday, which she's received and loves! (glad ya like it!)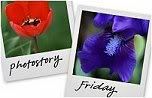 Hosted by Cecily and MamaGeek