tara and i had an impromptu trip to the mall last friday (on our respective days off). i'd been looking for flattish brown boots most of this winter and tara was looking for some black boots to go over her new black jeans.
i guess the planets were all in alignment that day, because we BOTH FOUND SOME!
because it was warm, and because we had a few minutes up our sleeves before school got out, we celebrated by stopping off at a local beach to take some fun shots.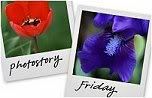 Hosted by Cecily and MamaGeek