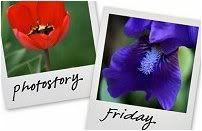 Hosted by Cecily and MamaGeek
DH decided to take last friday off as it was the last day of our term 2 school holidays. somewhere along the way, one of the younger girls named it our 'family fun day'. as miss 18 was back at university, she felt most left out, so her sis, miss 16 leapt to her defence and renamed it '5/6ths of a family lame day'. teenagers. pfft.
before she went off to class however, she had time for waffles. she's catching up a class-mate on something terribly important. it has to be terribly important to be talking on the phone whilst eating. helloooooooo! not good table manners!
we likey waffles at our place...
she also had time for a game of cluedo...

but then she had to go (doesn't she look happy?)
we settled in to watch this
then this

when you watch them together, you realise that the second one isn't as funny as the first. also that the timeline is totally screwed as ICE AGE 3 is about the dinosaurs and in the FIRST movie they talk about dinosaurs in the past. i know! i know! it's only a MOVIE!!!! but i'm one of those annoying people that spots stuff like that. like the 'bad edits'. you know the one where the cigarette is all the way smoked down, then in the next frame it's barely lit. yep, i'm one of those annoying people that notices shit like that.
later in the afternoon we headed into town to see the MV Doulos. not only is it the world's largest floating bookshop, it's recognised as the oldest active ocean-going passenger ship (1914 - 2 years younger than the 'titanic'). staffed by over 320 volunteers from 50 countries, it basically sails the world spreading the 'good word' (see pic below).
i don't know why my kids say i embarrass them. i really don't.
the bookshop kinda had a theme...
we decided to stay in town to bring miss 18 home and killed an hour at a local bar with some age-appropriate liquids (from left to right: gingerale, beer and a merlot).
we finished the day with a family meal and another movie. not so lame huh?