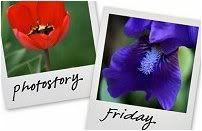 Hosted by Cecily and MamaGeek

who doesn't love a kid's birthday party? i know i do! party games, party food. party food. yep, definitely the party food.

tara's miss 9 turned 10 recently and, while i wasn't there for the cake (which was expertly made by her dad), i got to watch (and participate in!) some of the party games.

miss 9's sister had been given the green light to 'plan' the party and engaged the services of her bestie, my miss 11. don't they look professional in their black and white and aprons?

i think you remember the colourful delights on the left. the party planners put the sweet treats on the right together
admiring the card made by my miss 10. it was a money tree made up of 10 10 cent pieces. very cute it was too
party planners noting who gave which gift
who doesn't love pass the parcel? we've included questions relating to the birthday girl in each layer, eg: was miss 9 born in new zealand or australia (coz her parents are aussies). it gives the partygoers the opportunity to discover something new about their friend!
trust me - it's waaaaaaay harder than it looks. you bury paper clips in a big bowl of rice, blindfold each player...
AND OLD!!!
the idea is to sift and place ONLY paperclips on the floor beside the bowl, however...
if you are an ALPHA MALE and want to win at all costs, then you cheat and end up with great piles of rice AS WELL AS 66 paper clips!
I WIN!!! (actually, i didn't, but it was heaps of fun!)