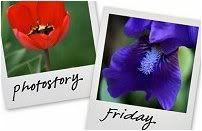 Hosted by Cecily and

MamaGeek
who leaves 4 children, 3 cats and a husband to travel half way around the world for 2 and 1/2 weeks to meet over a dozen complete strangers?
ME. I DO. I DID THAT.

and it was UNBELIEVEABLY AWESOME...

what you need to remember, is that like attracts like. i already had tonnes in common with the bevvy of bloggers i was about to meet. we're mums, we're stay-at-home mums, we're scrapbookers, we enjoyed meeting people, and we liked to try new things, so when we met face to face, it was like greeting an old friend.
in some cases the greetings involved jumping up and down on the spot, squeals of delight and those big ole 'side-to-side' hugs. makes a girl feel loved...
my first bloggy meeting was on my first morning in new york. after travelling for an insane number of hours and arriving before i'd even left - then STILL not being able to sleep, i was up with the birds and full of excitment to meet
amanda
(and hubby josh) to help celebrate amanda's 30th birthday in style.
i was half an hour early, so i went to buy a paper at the corner store next door, but before i had a chance to sit down and read it, i saw amanda coming towards me. she was even earlier than I WAS!!! amanda and josh are the sweetest couple and i only wish we had longer than 2 days together in new york.
this is where we had breakfast

compared to my semi sketchy hotel (to quote amanda) on the upper west side, i thought the new yorker was the ritz. while amanda was fairly happy with the view from her room, she noted that if she'd stayed on the OTHER side of the hotel, THIS would have been her view.
actually, it was OUR view (me and the
mom bomb
). see, she shouted me a night at the new yorker, which was right across the road from madison square garden (where madge was performing), or as we like to say back here in new zealand, close enough to stagger home to.
see that blue sky. every day of my trip was like that. E-V-E-R-Y DAY.
ok, these pics are out of order. i thought i had done SO well uploading them in the right order, but 22 is a lot of pictures people!!!
amanda and josh had a city pass and after brek, we found ourselves in the vicinity of the guggenheim, so josh very kindly held our bags while amanda and i shot to the front of the line with our free passes!
we weren't able to walk up the roundy round ramp as they were in the middle of unpacking (or packing up) an installation, but we had a good look around and managed to get lost. there was a disturbing exhibition of photographs of heavily tattooed and pierced folks of all walks of life, and lots of other interesting works.
i'm not an appreciator of art in any way, shape or form, but i know talent when i see it, and there's plenty on display there.
from there we went to little italy for lunch. we were so alfresco, we almost ate lunch in the middle of the road!
we had a look around chinatown, then got the subway back to meet THIS lovely blogger aka my madonna buddy! we ate at a really tasty thai place that she picked out.
this is a post office on the penn station block (i think!) i thought the see-through people were kinda cool...
next day - me, josh and amanda hit the ground running. this place wasn't on my 'list' but it was on amanda's, and i'm so glad we went. what fun!
what shall i play?

i played 'mary had a little lamb'. i figured it was the best i could do without making a complete idiot of myself.
i almost did myself a mischief reaching that note...
that doesn't sound right, try
that
one...
we did GOOOOOOOOOOOOOOD!!!!!
dylan's candy store was on my 'top ten' list. (oh yes, i had lists within my lists). dylan lauren is ralph's daughter, which is why she probably got a plum location on 3rd avenue to open her very first store
when i stepped in to have my picture taken, the dude on security just about had a coronary. he thought i was actually going to TOUCH the bunny. DON'T TOUCH THE BUNNY LADY!!!!
3 floors of candy heaven. don't ask me how much i spent here ...
a trip to new york wouldn't be completed with a visit to 'bloomies'
i even got myself a 'little brown bag', but it didn't contain anything in these pics
for the child that has everything (and apparently needs more)

we dragged josh through macys as well and he never complained once. he even carried our bags! the only time he tried to distance himself was when i starting singing along to the music that was playing inside the store. apparently i was embarrssing him?
one minute we're walkin' together and i start singing along to sheryl crowe, the next minute he's gone; 10 feet behind me and to the side feigning deep interest at the perfume counter.
what can i say. sometimes the music just moves me!
josh - is that your big ole' bald head in the bottom right of that pic??? (hehe) LOVE YA!!!
being the overly organised insane control freak that i am, i had printed SIX A4 pages of things to see, places to go, AND plotted my journey via the subway thanks to
this
fabulous website. (don't go there now, this stuff's WAY more interesting!) i had researched my trip and picked the brains of locals, including
these
cute girls, who gave us plenty of cool places to visit.
one such place is one of new york's best kept secrets. behind this curtain in the swanky
le parker meridien
hotel is BURGER JOINT. the only hint is this neon sign at the end of a small dark corridor.
when josh and i met, he quickly got the measure of me and before long was giving me a hard time for just about everything. just before he took this pic, he'd make some wisearse remark, and i retaliated the only way a girl knows how...
and here's burger joint. barely big enough to swing a cat, but it's a happenin' place all the same. as a result of careful planning and preparation, we easily beat the lunch time rush and snagged ourselves a booth.