karapoti is the southern hemisphere's longest running mountain bike race. it's practically all off-road through a mountain range, including unbikeable hills, river crossings and pine forests. riders cross the finish line caked in mud and barely recognisable.
there's the 50k (kilometre) classic and the 20k challenge.
i've been involved for 4 years, mostly volunteering. this is the registration desk, where i would usually be (at 6.45am!) but i was taking the photo, so try to imagine me there handing out race numbers and registration packs
one happy volunteer!
it rained HEAVILY all through the night before and the morning of the race. the conditions were ATROCIOUS to say the least. i've left the photos large so you can see the detail - it's raining in this pic where a UNICYCLIST is being interviewed.

YES - this crazy man does rides the ENTIRE race on ONE WHEEL!!!

the starts are staggered over an hour and every vantage point is taken to watch. the bikers in the foreground are queued up waiting to start
oh yeah - did i tell you, you start AND finish this race by carrying your bike through the river???
so, as i said before - it rained HEAVILY all throughout the night, so the river was SWOLLEN to say the least; ie the SHORTEST distance across the water wasn't always going to be the EASIEST
and because the starts were staggered, you would have to be an IDIOT not to have seen others go before you and end up NECK-deep in water trying to take a short-cut!
click on the photo!
but then the sun came out...this is the first woman home being interviewed.
check out the MUD on her. this is standard, heavy rain or not
this is the kennet brothers coming home, on their THRANDEM (that's a word)
the kennett brothers STARTED karapoti 24 years ago
oh yeah - did i tell you i did karapoti a couple of years back...
I. AM. LEGEND.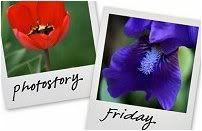 Hosted by Cecily and MamaGeek