miss 11 and miss 12 are at intermediate this year (middle school). our middle school is only TWO years, and it goes INSANELY fast. the girls are in the same syndicate, which HAS presented some issues, but as the first term (semester) comes to an end (one week to go - wahoo!), they seem to be settling in.
early in the year, they have an athletics day. the girls' syndicate chose blue as their colour for the day; and the colour theme was
embraced
to say the least, ie they took a lot of scrubbing to get clean that night!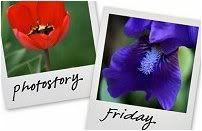 Hosted by Cecily and MamaGeek