this all started when i sent the hubs out to buy some new shelving for my cramped 'creative' space in the corner of our dining room.
all of a sudden he came up with the brilliant-beyond-brilliant (name that movie) idea to turn our dining room into a scrapping room!
after all, the caverous back of our large rectangular lounge was being under-utilised by a sad, lonely, cobweb-infested exercycle, and an even sadder and lonlier ironing board.
see cramped scrapping space on right
hereinafter to be referred to as the 'before' shot

before you could say 'fetch my rubber gloves', we were washing down windows, drycleaning curtains, vacuuming areas of floor that hadn't seen the light of day for many a-year, and generally having a good old clean up and clear out.
three crates of christmas china (who can resist a december 26 50% off sale at macys, right?), silver mini goblets and oddly shaped vases later, the room was looking very different.
that's the back of lounge (tv and sofas to the left out of shot) ready to welcome the dining table - oh, and we sold that coffee table this week too

hubs got the desk off trademe (like ebay) for $20 (although the trailer to collect it cost more - DOH!), and the room really started to take shape.
miss 11 (my little crafter) took one look at it, and said "can i do some scrapbooking on your desk?" i immediately saw where THAT was going, so ran right out and bought her a $30 desk from the local warehouse stationery.
red tick is my 'inspiration wall" that will get covered once the curtains are back from the drycleaners.
red arrow is where i blue-tacced an idea i'm using for a 6 x 6 album, and will ultimately be the spot for my 'inspiration wall'. the hubs found an old cork board that i'm going to do
this
to.
other red arrow is miss 11's crafty desk (which we have since tidied together!)
hubs has wired me up for wireless so i can blog, surf and computer journal without leaving my desk - yay! those white trays under the desk will be replaced with 12 x 12 drawers on wheels, and i also want to find a 12 x 12 frame that i can use to display my layouts.
check out that sun and light!

jealous much???

fast forward a week or two, and the curtains are back from cleaners and i have a laptop and speakers! now if i could just move these two along.....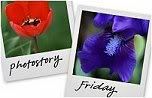 Hosted by Cecily and MamaGeek