she had 'drinks'
this is not to be confused with a party
'drinks' is invite only for between 9-12 of your closest friends

there was a greek toga theme


although i don't remember the greeks wearing sports socks

they played drinking games
they sung along loudly to bon jovi and aerosmith
they said thank you when i brought in snacks
there was cake
at midnight they turned off the music
brought out the dishes
recycled the empties
vacuumed up the cake crumbs
and put the furniture back

the boys went home
and the girls went to bed

but wait!

where's the rebellious teenager?

oh. there she is
but enough about me.
there were presents too
mostly brought from overseas
the 'joey hat' - LONDON BABY!
i couldn't resist
then there was the
tootsie roll jackpot


candy sent from
this
blogger and
this
blogger too!
these are the faces of two people not in the know...
but the biggest thanks goes to my KC peep
melinda,
who sent enough candy to satisfy the scrappy family sweet tooth until long after christmas!
and some of the mini album i made her, which is more like a MONDO album because the child has had such a busy year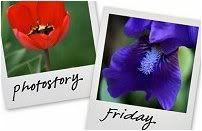 Hosted by Cecily and

Carissa