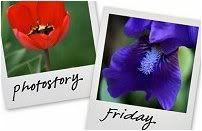 Hosted by Cecily and MamaGeek
when i posted this pic on wednesday, one of my commenters mentioned the fact that i probably needed high speed film to capture the moment. of course she was right!
so last friday i talked about how the last 19 years had disappeared in a flash. mostly good, although some days my forehead is flat from banging it against a brick wall...but of course all that is forgotten on the morning of the birthday when the entire family clamour on our super king bed for the present opening.
this is one of those traditions we created without really realising it. this time one of the girls pondered the day when we wouldn't all fit on the bed...